Key Features
Unlimited transactions and preferred foreign exchange rate


One of the best RBC offers.
Free, unlimited transfers and instant exchange1
Between your RBC Royal Bank (Canadian) and RBC Bank (U.S.) accounts – 24/7 with no delay.
Stop packing a stack of cash


Get cash at over 50,000 no-fee2 ATMs across the U.S.

Link your RBC Bank and RBC Royal Bank acccounts


With a single sign-in and transfer funds back and forth.
More Great Features
More Great Features with Direct Checking
Premium Checking
Details
Access U.S. Cash
Pay U.S. Bills

Online, anytime – even if you're in Canada with U.S. Bill Pay.
By writing a U.S. dollar check

Minimum Balance
$0; $50 deposit required to open
Monthly Debits
Unlimited
Deposit U.S. Dollar Checks

Online, anytime – even if you're in Canada and with U.S. Bill Pay
By writing a U.S. dollar check

Online Banking
Included
Mobile Banking
Included
Telephone Banking
Included
Nationwide Coverage
Yes – Bank in all 50 states
eStatements
Included
Account Alerts
Included
Personalized Checks
First order of 50 checks is on us (shipping & handling fees may apply)
ID Theft Recovery Service
Free
Cash Advances
Available at ATMs, financial institutions and participating retailers
Tap and Go
Contactless payment feature at participating merchants – simply tap your card at checkout to complete your transaction and be on your way.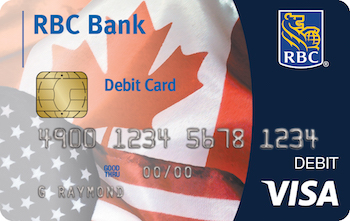 Shop, Get Easy Access to Cash with Visa Debit
While Visa Debit is new to Canadians, it's a mainstay of freedom and flexibility in the U.S. With your RBC Visa Debit card, you can enjoy free2 access to over 50,000 no-fee ATMs across the U.S! Find Allpoint ATMs in popular retailers such as Target, Walgreens, and CVS Pharmacy.
Use your card to make purchases online or over the phone–wherever Visa is accepted
Deposit U.S. currency and U.S. dollar checks at thousands of no-fee ATMs2 that accept deposits
Every RBC Visa Debit card comes with chip technology, offering enhanced fraud protection
You're protected by Visa's Zero Liability Policy10 –there's no personal liability in the event of fraudulent use when you sign for purchases
Link your card to Visa Checkout and pay online or on the go from your mobile phone or tablet in one quick, secure step
Avoid foreign transaction fees on U.S. purchases (if you use your Canadian credit card in the U.S., you'll typically pay up to 2.5% in foreign transaction fees on top of the purchase amount).
Ways to Bank
Easily Move Money
Transfer money between your RBC Canadian and U.S. accounts instantly and for free1 .
Bank Anywhere, Anytime
Use the RBC Mobile app or RBC Online Banking to move money and pay U.S. bills in seconds.
Get Cash at 50,000+ No-Fee2 ATMs
If you're charged a fee for using an ATM, we'll reimburse you (limits apply)3 .
Better Cross-Border Banking Gives You More
Preferred Money Market Savings5
Earn our best interest rates! Easily access the money you've saved, move funds or write checks.
Visa Signature Black U.S. Credit Card
Earn rewards with every purchase you make. Redeem for cash back, travel, gift cards and more.
Find a No-Fee U.S. ATM2 Near You
Withdraw cash at over 50,000 no-fee2 ATMs across the U.S. Find your closest location!
Search By:
Advanced Search Options