Helpful How-to's
ATM deposits – Convenient ways to put money in your U.S. account
When you're in the States, it's easy to use your RBC Bank Visa‡ Debit card to make ATM deposits at thousands of no-fee¹ ATMs that accept deposits. Just remember that you can deposit only U.S. currency or U.S. dollar checks drawn on U.S. financial institutions, and your deposit will go into the account linked to your debit card – either your RBC Bank checking, savings², or money market account³. Please note that funds deposited at an ATM may take up to five business days to become available.
Make sure you ...
Deposit only U.S. currency and U.S. dollar checks drawn on U.S. financial institutions. Canadian checks and currency cannot be processed.

Endorse, or sign, the back of each individual check. Turn your check over on the back with the narrow end at the top. Write your signature across the top.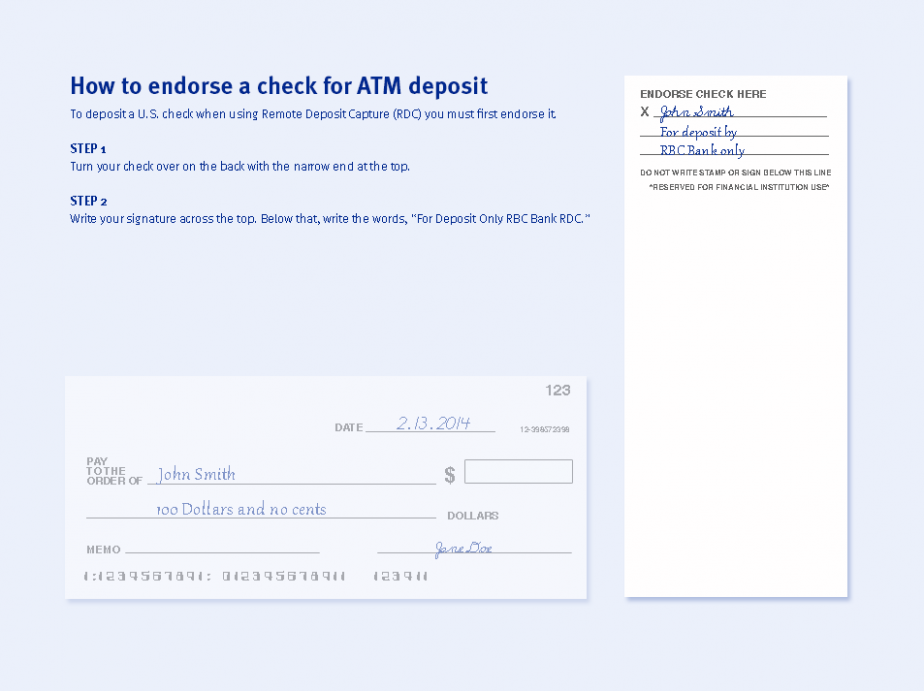 Click to view the full image
‡ All other trademarks are the property of their respective owners.
1 Standard account fees and transaction limitations will apply. To find a no-fee ATM near you visit www.rbcbank.com/atms. If you can't find a no-fee ATM nearby, you can use your RBC Bank Debit card for cash back with your purchases at many larger retail merchants such as grocery stores, or visit any U.S. ATM and request a refund of the ATM fee. Refund requests are subject to limitations, refer to the Personal Schedule of Fees for details.
2 Federal regulations allow only six preauthorized transfers out of the account per month. Each preauthorized transfer in excess of six will incur a $5 fee regardless of account balance. Continued excessive preauthorized transfers will result in account closure.
3 Federal law requires that no more than six preauthorized or automatic transfers (including online and telephone transfers) to other accounts you have with us or to third parties may be made from the Money Market Account during any statement cycle. Excessive preauthorized transfers may result in fees being charged and/or a conversion of your account to a different account type.